Associate Justice of the U.S. Supreme Court - Sonia Sotomayor
On May 26, 2009, President Obama announced that he would nominate Sonia Sotomayor to be an Associate Justice of the United States Supreme Court. The Judiciary Committee hearing to consider the nomination was held from July 13-16, 2009. The Judiciary Committee reported the nomination to the Senate for consideration on July 28, 2009. The Senate confirmed the nomination on August 6, 2009.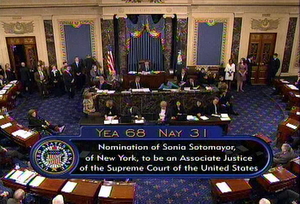 Justice Sotomayor was born on June 25, 1954, in New York City. She earned her B.A. from Princeton University in 1976, and in 1979, graduated from Yale Law School. She worked as an assistant district attorney from the New York County District Attorney's Office from 1979 to 1984. Judge Sotomayor worked in private practice from 1984 until 1992. She was nominated by President George H.W. Bush to a seat on the U.S. District Court for the Southern District of New York, a seat to which she was confirmed in 1992. In 1998, after being nominated by President Bill Clinton, Sotomayor was confirmed to the U.S. Court of Appeals for the Second Circuit.
Transcript
A transcript of the hearing, including the Committee Questionnaire, responses to questions submitted for the record, and letters received in connection with the nomination is available through the Government Printing Office.
Committee Questionnaire - Appendix
June 19, 2009 - Questionnaire Supplement
June 15, 2009 - Questionnaire Supplement

Supplemental Attachment 1 - Article by Thomas Schweitzer
Supplemental Attachment 2 - October 10, 1980 Puerto Rican Legal Defense and Education Fund Letter
Supplemental Attachment 3 - March 3, 1981 Puerto Rican Legal Defense and Education Fund Document
Supplemental Attachment 4 - March 13, 1984 Puerto Rican Legal Defense and Education Fund Report of the Ad Hoc Committee on Reorganization and Long-Range Planning
Supplemental Attachment 5 - June 19, 1987 Puerto Rican Legal Defense Fund Memorandum
Supplemental Attachment 6 - September 2, 1987 Puerto Rican Legal Defense and Education Fund Memorandum
Supplemental Attachment 7 - January 27, 1988 Puerto Rican Legal Defense and Education Fund Memorandum
Supplemental Attachment 8 - April 13, 1988 - Puerto Rican Legal Defense and Education Fund Memorandum
Supplemental Attachment 9 - Judgements in United States of America v. Paul V. Bauers and United States of America v. Milton Gottesman
Supplemental Attachment 10 - Appellant's Brief in 90-7322
Supplemental Attachment 11 - Appellee's Brief in 90-7322
Supplemental Attachment 12 - Appellant's Reply Brief in 90-73
Supplemental Attachment 13 - March 21, 2003 Indiana University, Maurer School of Law, Civil Procedure Course
Supplemental Attachment 14 - March 21, 2003 Indiana University, Maurer School of Law, Criminal Procedure Course
Supplemental Attachment 15 - Sweeper v. Scully
Supplemental Attachment 16 - Emile v. Browner
Supplemental Attachment 17 - Bowers v. Navistar
Supplemental Attachment 18 - Flamer v. City of White Plains
Supplemental Attachment 19 - Medmar v. Fahem
Supplemental Attachment 20 - Nonferrous v. Agricultural Bank
Supplemental Attachment 21 - February 25, 2005, Duke Law School Speech (video filed with the Committee)
Supplemental Attachment 22 - May 21, 2006, Hofstra University Speech (video filed with the Committee)
Supplemental Attachment 23 - November 12, 1993, Preiskel/Silverman Event (video filed with the Committee)
Supplemental Attachment 24 - December 10, 2003, Developmental School for Youth Graduation Ceremony (video filed with the Committee)
Supplemental Attachment 25 - May 17, 2009, El Diario Luncheon Remarks
Supplemental Attachment 26 - Women and the Leadership Q Profile
Supplemental Attachment 27 - Women and the Leadership Q Book Excerpt
Supplemental Attachment 28 - Spring 2005, Developmental School for Youth Graduation Ceremony (video filed with the Committee)
Supplemental Attachment 29 - Spring 2006, Developmental School for Youth Graduation Ceremony (video filed with the Committee)
Supplemental Attachment 30 - Minutes from meetings of the Program Committee of the Board of Directors of the State of New York Mortgage Agency
Supplemental Attachment 31 - Minutes from meetings of the Personnel and Affirmative Action Committee of the Board of Directors of the State of New York Mortgage Agency
Supplemental Attachment 32 - Files from the New York District Attorney's Office


June 5, 2009 - Questionnaire Supplement

March 24, 1981 - Memorandum to the Puerto Rican Legal Defense and Education Fund, from the Task Force on the Bill to Restore the Death Penalty in New York State

May 10, 1974 - Letter to the Editor: Anti-Latino discrimination at Princeton, The Daily Princetonian
September 12, 1974 - Letter to the Editor: Criticizing the process of selecting a 'minority dean,' The Daily Princetonian
February 27, 1976 - Letter to the Editor: Criticizing and anti-gay attack on campus, The Daily Princetonian
1979 - Note, Statehood and the Equal Footing Doctrine: The Case for Puerto Rican Seabed Rights, 88 Yale Law Journal 825
1996 - Sonia Sotomayor & Nicole A. Gordon, Returning Majesty to the Law and Politics: A Modern Approach, 30 Suffolk University Law Review 35
2002 - A Latina Judge's Voice, 13 Berkeley La Raza Law Journal 87
2004 - Tribute to John Sexton, 60 N.Y.U. Annual Survey of American Law 23
2007 - Foreword to Daniel Terris, et al., The International Judge: An Introduction to the Men and Women Who Decide the World's Cases

April 10, 1981 - Puerto Rican Legal Defense and Education Fund, Letter to to Governor Carey opposing the reinstatement of the death penalty
November 21, 1997 - Report of the Second Circuit Task Force on Gender, Racial and Ethnic Fairness in the Courts
November 21, 1997 - Report of the Second Circuit Task Force on Gender, Racial and Ethnic Fairness in the Courts, Appendix B
November 21, 1997 - Report of the Second Circuit Task Force on Gender, Racial and Ethnic Fairness in the Courts, Appendix C
February 2001 - Fordham Self Study Report


June 1992 - Transcript of Hearing for District Court Nomination, Part 1
September 1997 - Transcript of Hearing for Circuit Court Nomination



Date Not Listed - Colegio de Abogados de Puerto Rico, Panel: Women in the Judiciary
Early 1990s - Practicing Law Institute: "Facing the '90s as a Woman Lawyer in Corporate Law Practice" (video filed with Committee)
April 1, 1993 - American Bar Association Section on Litigation and Prentice Hall Law & Business Conference: "The Woman Advocate" (panel news clippings)
August 27, 1993 - Second Circuit Naturalization Proceedings and Attorney Admissions Proceedings Naturalization - Part 1 and Part 2
November 12, 1993 - Yale Law School Presikel/Silverman Event, "Doing What's Right: Ethical Questions for Private Practitioners Who Have Done or Will Do Public Service"
1994 - Federal Judicial Center, "Your First Year on the Bench" (video filed with Committee)
March 17, 1994 - Revista Juridica de la Universidad Interamericana de Puerto Rico, "Women in the Judiciary"
March 19, 1994 - Revista Juridica de la Universidad Interamericana de Puerto Rico, 40th National Law Review Conference
January 17, 1995 - Hogan-Morgenthau Associations, The Hogan-Morgenthau Award
February 5, 1996 - Suffolk University Law School, "Returning Majesty to the Law and Politics: A Modern Approach"
March 15, 1996 - Latino and Latina American Law Students Association of Hofstra University School of Law, Remarks at the 3rd Annual Awards Banquet and Dinner Dance for the Latino and Latina American Law Students Association
May 17, 1996 - Hispanic National Bar Association, Remarks at the National Board of Governors Reception
November 7, 1996 - Princeton University, Remarks at the Latino Heritage Month Celebration
February 19, 1997 - Puerto Rican Bar Association, Introduction of Judge Jose Cabranes at the 1997 Cocktail Reception Recognizing Excellence in the Judiciary
May 15, 1997 - Association of Judges of Hispanic Heritage, Introduction of John D. Feerick at the Hispanic Judges Dinner
September 14, 1997 - Hunts Point Multi-Service Center, Inc., Remarks at the 30th Anniversary Event

October 16, 1997 - International Anti-Counterfeiting Coalition, Remarks at Luncheon on International Counterfeiting
September 15, 1998 - U.S. Department of Justice, Federal Bureau of Prisons, Remarks at Hispanic Heritage Month Celebration of Women in Leadership
September 22, 1998 - New York County Lawyers Association, Committee on Minorities and the Law, Remarks at Reception for Ellis Cose's The Best Defense, NYCLA's Minority Judicial Internship Program, and the Honorable and Mrs. Baer
September 24, 1998 - National Puerto Rican Coalition, Inc., National Policy Conference Speech
October 7, 1998 - Winthrop, Stimson, Putnam & Roberts, "Breaking Down Barriers - Reaching New Heights, Part 1 and Part 2
October 24, 1998 - Connecticut Hispanic Bar Association, Fifth Annual Awards Celebration and Scholarship Presentation: Hispanic Females in Leadership
October 26, 1998 - Federal Correctional Institution at Otisville, Hispanic Heritage Month Program
October 28, 1998 - The Cervantes Society, 3rd Annual Celebration of Hispanic Heritage Month, Celebrating Women in Leadership
November 6, 1998 - United States Court of Appeals for the Second Circuit, Induction Speech
December 4, 1998 - Beat Gordon and the Japanese Consulate, Ceremony Honoring Beate Gordon
January 20, 1999 - Panel Discussion at Facultad de Derecho Eugenio Maria de Hostos, Speech on the United States Judicial System (news clippings)
March 5, 1999 - Riverside Church, Eulogy at the Memorial Service for the Honorable Mary Johnson Lowe
April 20, 1999 - Columbia Law School, Center for Public Interest Law, 1999 Annual Public Interest Awards Dinner
April 30, 1999 - Women's Bar Association of the State of New York, 1999 Convention, "Women Moving Forward" (news clippings)
May 13, 1999 - Puerto Rican Bar Association, Presentation of the Honorable Felipe N. Torres Award for Outstanding Latino Attorney of the Year to Xavier Romeu Matta, Executive Director for the Puerto Rico Industrial Development Corp.
June 2, 1999 - Lehman College, Receipt of an Honorary Doctor of Laws
August 19, 1999 - Hispanic Bar Association of New Jersey, 30th Annual Scholarship Dinner Dance (news clippings)
September 11, 1999 - Colegio de Abogados de Puerto Rico, Remarks at the Colegio de Abogados de Puerto Rico Asamblea Annual 1999 on the Importance of an Independent Judiciary
April 7, 2000 - New York Law School Law Review, Charles W. Froessel Award
June 21, 2000 - Law School Admission Council, Taping for a Hispanic Recruitment Video Production (video filed with the Committee)
June 26, 2000 - Bronx Leadership Academy, Graduation
September 19, 2000 - Federal Bar Council Inns of Court, Panel Discussion on End-of-Life Issues (video filed with the Committee)
September 26, 2000 - National Labor Relations Board, Installation of Celeste J. Mattina as the Regional Director of the NLRB, Region 2
November 13, 2000 - Lawyering for Social Justice, Jurist in Residence Lecture
November 30, 2000 - Litigators Club, Remarks on the Difference Between the Court of Appeals and the District Court
January 25, 2001 - Arizona State University College of Law, "Lawyering for Social Justice" (news clippings)
June 1, 2001 - Eastern District of New York, Induction of Lois Bloom as a District Court Judge
June 7, 2001 - Brooklyn Law School Commencement, Commencement Address
September 9, 2001 - Hofstra Law School, Introduction of Justice Antonin Scalia
October 26-28, 2001 - Raising the Bar, Latino and Latina Presence in the Judiciary and the Struggle for Representation, Boalt Hall School of Law, University of California, Berkeley, Olmos Lecture
November 1, 2001 - Rutgers Law School, Introduction of Ida Castro for the Fannie Bear Besser Award
November 30 - December 1, 2001 - Princeton University Seminar: "Puerto Ricans: Second Class Citizens in Our Democracy?", Symposium Panel on Puerto Ricans in Democracy (news clippings)
February 26, 2002 - The Princeton Club, "A Visit With Princeton Women's Network of New York City"
April 18, 2002 - Cardozo School of Law, Yeshiva University, "Most Influential Women in the Law Award"
May 1, 2002 - FBI Speech Sponsored by the Hispanic, Black, Irish, and Asian/Pacific Islander Communities, "Unity Day: United We Stand"
June 4, 2002 - Second Circuit Judicial Assistants/Judicial Secretaries, Administrative and Operational Training Workshop for Second Circuit Judicial Assistants/Judicial Secretaries
September 10, 2002 - St. John's University, 2002-2003 Visiting Jurist Series
February 14, 2003 - Constitutional Studies Center, Georgetown University Law Center, "Rearguing Marbury v. Madison" (video filed with the Committee)
March 20-21, 2003 - Indiana University, Mauerer School of Law, Guest Lectures, etc.
March 27, 2003 - New York University School of Law, Annual Survey of American Law, Tribute to John Sexton
May 3, 2003 - Women's Bar Association of the State of New York, "Convention 2003; Where it all Began: Central New York Birthplace of Women's Rights," Part 1 and Part 2
May 10, 2003 - University of Buffalo Law School, 114th Annual Commencement Speaker
May 18, 2003 - Pace University Law School, Honorary Doctorate Commencement Address
June 21, 2003 - Princeton University, "The Judiciary and Democracy: Principle and Politics"
October 22, 2003 - Latin American Law Students Association, Seton Hall School of Law Distinguished Lecturer Series
October 26, 2003 - Boy Scout Troop 96 of Ringwood, New Jersey, Eagle Scout Court of Honor (video filed with the Committee)
October 30, 2003 - Association of Judges of Hispanic Heritage, Inc., John Carro Award for Judicial Excellence at the "Hispanic Heritage Awards Dinner"
December 10, 2003 - Development School for Youth, Graduation Ceremony
May 18, 2004 - Columbia Law School Graduation, Commencement Address

September 10, 2004 - NYS Unified Court System, "A Celebration of Unity and Renewal in Tribute to the Sacrifices Made on September 11, 2001"
September or October 2004 - Turn of River Middle School, Stamford, Conn., Hispanic Heritage (video filed with the Committee)
October 10, 2004 - 2004 Hispanic National Bar Association Convention, "How to Become a Law Clerk" Panel, Latina Judge of the Year Award
November 9, 2004 - Puerto Rican Legal Defense and Education Fund Event Honoring John Carro Sheridan, Remarks Similar to John Carro Award for Judicial Excellence at the "Hispanic Heritage Awards Dinner"
February 25, 2005 - Duke Law School, Deans Cup Moot Court Panel and Discussion
March 16, 2005 - Puerto Rican Bar Association and Association of Judges of Hispanic Heritage, Launching Reception for the Judicial Internship Placement Program
April 15, 2005 - Latino Law Students Association, LALSA Dinner
November 15, 2005 - The Federal Bar Association, Motion by the Federal Bar Association and Others to Admit New Members
March 6, 2006 - University of Puerto Rico School of Law, Initiation Ceremony for the Law Review's 75th Volume Board of Editors: "How to be an Effective Advocate in Court"
April 7, 2006 - Yale Law School, "Latino Law Student's Association's Public Service Award"
May 21, 2006 - Hofstra University School of Law, Honorary Doctoral Degree and Commencement Address
October 4, 2006 - Latino Law Student's Association, Columbia Law School, Professional Leadership Award
October 12, 2006 - Federal Judicial Center, Georgetown University Law Center, "Immigration Law for Judges of the U.S. Courts of Appeals"
November 3, 2006 - Cardinal Spellman High School, Cardinal Spellman Career Day
September 21, 2007 - Urban Health Plan, Inc., "Wall of Fame" Induction at the 12th Annual Urban Health Plan Celebration Community Health Symposium and Kick-Off Reception (video also filed with the Committee)
October 15, 2007 - Latin American Law Students Association, Cornell Law School, Remarks
November 12, 2007 - Vermont Law School, "A Celebration of the Life and Service of the Honorable James L. Oakes"
January 18, 2008 - United States Courthouse, Burlington, Vermont, Unveiling of a Commemorative Portrait of Judge Fred I. Parker
October 8, 2008 - Latino Law Students Association, Cornell Law School, LALSA Hispanic Heritage Month Discussion (notes)
October 20, 2008 - University of Hartford, Jon Newman Annual Lecture on Law and Justice
February 28, 2009 - Yale Law School Federalist Society, 2009 Federalist Society Student Symposium on "Separation of Powers in American Constitutionalism"
April 17, 2009 - Black, Latino, Asian Pacific American Law Alumni Association of New York University School of Law, Keynote Address, "Being the Change We Need for Our Communities"
April 28, 2009 - American Civil Liberties Union of Puerto Rico, "How Federal Judges Look to International and Foreign Law Under Article VI of the U.S. Constitution" (video filed with the Committee)
May 7, 2009 - New York County Lawyer's Association, Presentation and Discussion of Ellis Cose's Radio Documentary "Nerds in the Hood"
May 26, 2009 - The White House, Nomination to the United States Supreme Court


Date Not Listed - Lori Ferguson, Continually Defining What's Right and Just, Princeton Alumni Magazine
Date Not Listed - Margarita Santori, Educationa 'la unica solucion,' El Mundo
Date Not Listed - Primera Juez Hispana del Distrito Federal, Caras de Puerto Rico
April 22, 1974 - Latin Student Groups Assail University Hiring Performance, The Daily Princetonian
September 12, 1974 - Student's Complain About Selection of 'Minority Dean,' The Daily Princetonian
April 5, 1983 - Two Men Imprisoned in Child Pornography, The New York Times
November 27, 1983 - The D.A.'s Right Arms, The New York Times
June 17, 1985 - M. A. Farber, As He Seeks a 4th Term, Morgenthau Confronts First Sustained Criticism, The New York Times
1986 - Interview with Channel 9 (New York), on counterfeit watches (video filed with the Committee)
1986 - Interview with Good Morning America, on women and careers (video filed with the Committee)
September 1986 - Catherine Lawton, A Touch of Class, Mademoiselle
November 11, 1986 - Michael Gross, Notes on Fashion, The New York Times
1991 - Spanish language interview, on confirmation as a District Court judge (video filed with the Committee)

December 1, 1991 - Sam Howe Verhovek, Political Talk, New Faces on the Bench, The New York Times
May 20, 1992 - Trish Donnally, Fashion's Assault on Counterfeiters: Companies Fight to Stop Others Cashing in on Their Good Name, The San Francisco Chronicle
May 31, 1992 - M. P. McQueen, Great Hispanic Hope: Lawyer May Be State's First Latina Federal Court Judge, New York Newsday
August 26, 1992 - Deborah Pines, New Woman Judges Took Different Routes to Court, New York Law Journal
September 25, 1992 - Jan Hoffman, A Breakthrough Judge: What She Always Wanted, The New York Times
October 1992 - Viva en Foco, Daily News (New York)
February 9, 1993 - Patricia Cohen, Loads of Praise for Judge Wood, Newsday
October 20, 1994 - Interview with Channel 41 (New York Spanish language station), on Lifetime Achievement Award from National Puerto Rican Coalition, Inc. (video filed with the Committee)

August 1, 1995 - Jane Furse, From Bench, She Hits Hard, Daily News (New York)
June 12, 1997 - Interview with Visiones, on childhood and career (video filed with the Committee)

July 14, 1997 - Camille Martinez, Hit for Baseball Strike Ender, Newsday
1998 - Leonor Mulero, Sotomayor al apelativo federal, Primo Plano
May 8, 1998 - Lisa M. F. Younes, Con Mucho Que Agradecer al 98 Sotomayor, El Mundo
October 7, 1998 - Interview with Fox News (local affiliate), on Second Circuit confirmation (video filed with the Committee)
October 10, 1998 - Maria Vega, Frentes y Perfiles de una Jeuza, El Dario La Prensa
October 24, 1998 - Greg B. Smith, Judge's Journal to Top, New York Daily News
November 7, 1998 - P.R. Native Becomes Judge on 2nd Circuit Court of Appeals, San Juan Star
November 8, 1998 - Judge's Journey was Uphill from the Start, Rochester Democrat and Chronicle
November 8, 1998 - Woman Rises from Projects to High Court, Connecticut Post
November 9, 1998 - Larry Neumeister, Judge Learns Life in Tough Childhood, The Associated Press State & Local Wire
November 16, 1998 - Larry Neumeister, Judge Finds Humility in Journey from Housing Projects to High Court, The Associated Press BC Cycle
December 28, 1998 - Leonor Mulero, Una Carrera Judicial Ilena de Logros, De El Nuevo Dia
January 21, 1999 - Gladys Nieves Ramirez, En la Isla la Juez Sotomayor, El Nuevo Dia
January 25, 1999 - Por la union puertorriquena, El Nuevo Dia
2000 - American Bar Association, National Hispanic Heritage Month
2002 - Nancy Carson, Believing in Ourselves, 24-27
November 4, 2002 - Joe Beck, Sonia Sotomayor Reflects on Her Success: First Puerto Rican Woman to be a Federal Judge, The Hispanic Outlook in Higher Education
March 9, 2003 - Yvonne M. Conde, Sotomayor, su Senoria!, Hoy
February 2006 - Ina R. Bort, Judicial Profile, The Federal Lawyer
November 2, 2006 - Pamela A. MaClean, New 2nd Circuit Chief No Ideologue, The Connecticut Law Tribune
May 2, 2009 - AP, Se Retira Juez del Supermo, El Vocero
May 2, 2009 - Cynthia Lopez Caban, Seria Un Regalo Maravilloso, El Neuvo Dia
May 2, 2009 - Beatriz de la Torre, Suena Sotomayor, El Vocero
May 18, 2009 - Jose Acosta, El Diario Reconoce Liderazgo de la Mujer Hispana, El Dario
May 31, 2009 - Lizette Alvarez & Michael Wilson, Up and Ou of New York's Projects, The New York Times (referencing a quote published in a "1999 article in a housing authority publication")


1987-1992 - Minutes from meetings of the State of New York Mortgage Agency Board of Directors
1988-1992 - Advisory Opinions issued by the New York City Campaign Finance Board
1989-1992 - Minutes from meetings of the State of New York Mortgage Agency Mortgage Insurance Committee
1989-1992 - Minutes from meetings of the State of New York Mortgage Agency Audit and Finance Committee
1989-1992 - Minutes from meetings of the State of New York Mortgage Agency Affirmative Action Committee
1990 - New York City Campaign Finance Board, Dollars and Disclosures: Campaign Finance Reform in New York City
August 16, 1991 - Report of the Advisory Panel on Inter-Group Relations (convened by Commissioner Margarita Rosa of the New York State Division of Human Rights at the behest of Governor Mario Cuomo)
1992 - New York City Campaign Finance Board, Windows of Opportunity: Campaign Finance Reform and the New City Council


May 24, 1993 - Mermelstein v Maki et al., 93 Civ. 0916
December 8, 1993 - Parker v. Senkowski, 91 Civ. 2601
March 23, 1994 - Bolt Electric Inc. v. City of New York, 93 Civ. 3186
February 18, 1994 - Runquist v. Delta Capital Management, 91 Civ. 3335
May 26, 1994 - Cohen v. Heussinger, 89 Civ. 6941
July 17, 1995 - European American Bank v. Benedict, 94 Civ. 7110
July 16, 1996 - American Fuel Corporation v. Utah Energy Development Co, Inc., 96 Civ. 2805
June 16, 1997 - Holton v. Fraitellone, 96 Civ. 1312
September 24, 1997 - Greenbaum v. Handelsbanken, 95 Civ 3850
January 13, 1998 - Albert v. Strack, 97 Civ. 2978
May 21, 1998 - Carlisle Ventures Inc. v. Banco Espanol de Credito, S.A., 94 Civ. 5835
June 13, 1998 - Santana v. Artuz, 97 Civ. 3387
May 25, 1999 - Shabazz v. Pico, 93 Civ. 1424
January 10, 2005 - United States v. Barrientos


April 29, 2002 - United States v. Segura, et al., No. 01-1193(L), 01-1196(CON)
February 12, 2004 - United States v. LaFontaine, No. 02-1232
February 27, 2004 - United States v. Williams, Nos. 01-1398(L), 01-1565(CON), 01-1567(CON), 01-1580(CON), 01-1581(CON), 01-1604(CON), 01-1614(CON), 02-1317(CON)
May 3, 2004 - United States v. Sanchez-Villar, No. 01-1645
July 15, 2004 - United States v. Wagner, No. 02-1287(L), 02-1288(CON), 02-1507(CON)


Trial and Appellate Advocacy, New York University Law School (1998-2007), co-taught with Adjunct Professor John Siffert

2001 Syllabus
2003 Syllabus
2004 Syllabus
2007 Syllabus

Appellate Advocacy, Columbia University (1999-2009), co-taught during different periods with Professor Gerard Lynch and Assistant Dean and Lecturer-in-Law Ellen P. Chapnick, and with Lecturer-in-Law Ilene Strauss

Spring 1999 Syllabus
Fall 1999 Syllabus
Spring 2000 Syllabus
Spring 2009 Syllabus

Federal Appellate Procedure and Advocacy, University of Puerto Rico, 2007 Syllabus
Documents Received from LatinoJustice PRLDEF (Available Upon Request)
Letters from Individuals and Organizations
August 5, 2009 - National Women's Law Center
August 5, 2009 - Joint Letter [Donald B. Ayer, Timothy S. Bishop, Richard P. Bress, Louis R. Cohen, Drew S. Days III, Walter Dellinger, Samuel Estreicher, Barto Farr, Meir Feder, Jonathan S. Franklin, David C. Frederick, Andrew L. Frey, CharlesFried, Kenneth S. Geller, John J. Gibbons, Jamie S. Gorelick, Jeffrey T. Green, Caitlin J. Halligan, Pamela Harris, George W. Jones, Jr., Pamela S. Karlan, Michael K. Kellogg, Douglas W. Kmiec, Jeffrey A. Lamken, Timothy K. Lewis, Rory K. Little, Robert A. Long, Deanne E. Maynard, Patricia Millett, Randolph D. Moss, Carter G. Phillips, Andrew J. Pincus, E. Joshua Rosenkranz, Charles A. Rothfeld, Gene C. Schaerr, Joshua Schwartz, Virginia A. Seitz, Stephen M. Shapiro, Paul M. Smith, Jerold S. Solovy, Kathleen M. Sullivan, Richard Taranto, Laurence H. Tribe, Alan Untereiner, Seth P. Waxman, Christopher J. Wright]
August 5, 2009 - FRCAction
August 4, 2009 - Joint Letter from Civil Rights Organizations
August 4, 2009 - American Association of People with Disabilities
August 3, 2009 - Alliance for Justice
July 30, 2009 - Joint Letter from Disability Advocacy Groups
July 28, 2009 - National Council of Jewish Women
July 28, 2009 - The Ethics & Religious Liberty Commission
July 28, 2009 - American Federation of State, County and Municipal Employees
July 27, 2009 - National Partnership for Women & Families
July 27, 2009 - National Latina Institute for Reproductive Health
July 27, 2009 - Joint Letter [A. Philip Randolph Institute; ACORN; ADA Watch; Advancement Project; Alliance for Retired Americans; American-Arab Anti-Discrimination Committee (ADC); American Association for Affirmative Action; American Association of People with Disabilities; American Association of University Women (AAUW); American Federation of Government Employees, AFL-CIO; American Federation of Labor and Congress of Industrial Organizations (AFL-CIO); American Federation of State, County and Municipal Employees; American Federation of Teachers; Americans for Democratic Action, Inc.; Asian American Justice Center; Campaign for America's Future; Center for Inquiry; Center for Responsibile Lending; Communications Workers of America; Cuban American National Council (CNC); DC Vote; Demos; Disability Rights Education and Defense Fund; Feminist Majority; Hispanic Federation; Human Rights Campaign; Immigration Equality; International Union, United Automobile Aerospace & Agricultural Implement Workers of America (UAW); Iota Phi Lambda Sorority, Inc.; Japanese American Citizens League; Judge David L. Bazelon Center for Mental Health Law; Laborers' International Union of North America; Lawyers' Committee for Civil Rights Under Law; Leadership Conference on Civil Rights; Leavgue of United Latin American Citizens; Legal Aid Society-Conference on Civil Rights; League of United Latin American Citizens; Legal Aid Society-Employment Law Center; Legal Momentum; Mexican American Legal Defense and Education Fund; NAACP; NAACP Legal Defense & Education Fund, Inc.; NARAL Pro-Choice America; National Asian Pacific American Bar Association; National Association for Equal Opportunity in Higher Education (NAFEO); National Association of Consumer Advocates; National Association of Human Rights Workers; National Association of Latino Elected and Appointed Officials (NALEO); National Association of Neighborhoods; National Association of Social Workers; National Black Chamber of Commerce; National Black Justice Coalition; National Coalition for Disability Rights (NCDR); National Community Reinvestment Coalition; National Congress of American Indians; National Congress of Black Women, Inc.; National Council of Jewish Women; National Disability Rights Network; National Education Association; National Employment Law Project; National Employment Lawyers Association; National Fair Housing Alliance; National Hispana Leadership Institute; National Jewish Democratic Council; National Korean American Service & Education Consortium (NAKASEC); National Minority AIDS Council; National Organization for Women; National Partnership for Women & Fmailies; National Urban League; National Women's Law Center; NCLR (National Council of La Raza); Open Society Policy Center; People for the American Way; Pride at Work, AFL-CIO; Service Employees International Union (SEIU); Southeast Asia Resource Action Center (SEARAC); Southwest Voter Registration Education Project (SVREP); United Food and Commercial Workers International Union (UFCW); USAction; U.S. Hispanic Chamber of Commerce; Women Employed]
July 27, 2009 - Hispanic Alliance for National Prosperity
July 27, 2009 - Commonwealth of Puerto Rico, House of Representatives
July 24, 2009 - Joint Letter from Congressman Joe Baca (California), Congressman Solomon Ortiz (Texas), Congressman Silvestre Reyes (Texas), and Congressman John Salazar (Colorado)
July 24, 2009 - American Federation of Labor and Congress of Industrial Organizations (AFL-CIO)
July 24, 2009 - American Association of University Women
July 23, 2009 - U.S. Chamber of Commerce
July 23, 2009 - National Rifle Association
July 22, 2009 - Joint Letter [Brigadier General James P. Cullen, USA (Ret.), Rear Admiral Donald J. Guter, USN (Ret.), Rear Admiral John D. Hutson, USN (Ret.)]
July 21, 2009 - Women's Legal Defense and Education Fund
July 21, 2009 - National Women's Law Center
July 21, 2009 - National Employment Lawyers Association
July 21, 2009 - American GI Forum of the United States
July 21, 2009 - American Federation of State, County and Municipal Employees
July 21, 2009 - Alexander M. Sanders, Jr., Chairman, Charleston School of Law
July 20, 2009 - Daisy W. Lynum, Commissioner, City of Orlando
July 18, 2009 - Constitutional Accountability Center
July 17, 2009 - Fort Worth Hispanic Chamber of Commerce
July 17, 2009 - Congress of Racial Equality
July 16, 2009 - Richard Primus, Professor of Law, John Simon Guggenheim Memorial Foundation Fellow in Constitutional Studies, University of Michigan School of Law
July 16, 2009 - Joint Letter from Former U.S. Attorneys [Benito Romano, David N. Kelley, Michael Garcia, Robert B. Fiske, Jr., John S. Martin, Jr.]
July 16, 2009 - Federal Hispanic Law Enforcement Officers Association
July 16, 2009 - The City Project
July 16, 2009 - Brady Campaign to Prevent Gun Violence
July 15, 2009 - National Hispanic Christian Leadership Conference
July 15, 2009 - Joint Letter from Law School Professors
July 15, 2009 - American Association of Christian Schools
July 14, 2009 - Family Research Council
July 14, 2009 - The Ethics & Religious Liberty Commission
July 14, 2009 - Club for Growth
July 14, 2009 - Former President William Jefferson Clinton
July 13, 2009 - National Puerto Rican Coalition, Inc.
July 13, 2009 - National Council of Jewish Women
July 13, 2009 - Congressional Asian Pacific American Caucus
July 13, 2009 - American Humanist Association
July 12, 2009 - Gerald Walpin
July 11, 2009 - Women Lawyers of Almeda County, California
July 11, 2009 - Presente.org
July 11. 2009 - California Women Lawyers
July 10, 2009 - People for the American Way
July 10, 2009 - National Association of Latino Elected and Appointed Officials
July 10, 2009 - Lawyers Committee for Civil Rights Under Law
July 10, 2009 - Joint Letter [Phyllis Schlafly, Manual Miranda, Matthew D. Staver, Rick Scarborough, Janet Porter, Phillip Jauregui, Kay R. Daly, Michael Thielen, William Greene Ph.D., Virginia Armstrong, Ph.D., Ron Shuping, Dr. Jody Hice, Gene Mills, Tom Shields, Ronald Konopaski, Michael R. Long, Don Feder, Bill Johnson, Pastor Paul Blair, Mike Coley, Alex Mason, Mark Williamson, Kris Mineau, Kent Ostrander, Fran Bevan, Dr. Carl Herbster, Bobbie Patray, C. Preston Noell III, Dr. Gary L. Cass, Gary Bauer]
July 10, 2009 - International Association of Chiefs of Police
July 10, 2009 - Fidelis
July 10, 2009 - Connecticut Hispanic Bar Association
July 10, 2009 - Association on Higher Education and Disability
July 10, 2009 - Americans for Democratic Action
July 10, 2009 - American Center for Law & Justice
July 9, 2009 - National Black Prosecutors Association
July 9, 2009 - The Honorable Hector Ferrer Rios, Commonwealth of Puerto Rico, House of Representatives
July 9, 2009 - Lawyers' Committee for Civil Rights Under Law
July 9, 2009 - Joint Letter [Earthjustice, Center for Biological Diversity, Greenpeace USA, Center for International Environmental Law, International Fund for Animal Welfare, Clean Water Action, League of Conservation Voters, Defenders of Wildlife, National Audubon Society, Endangered Species Coalition, National Hispanic Environmental Council, Friends of the Earth, National Wildlife Federation, Native American Rights Fund, Sierra Club, The Wilderness Society, Advocates for the West, Greater Yellowstone Coalition, Audubon Society of Rhode Island, Gulf Restoration Network, Citizens for the Chuckwalla Valley (CA), Heartwood, Colorado Environmental Coalition, Hoosier Environmental Council, Columbia Riverkeeper, Idaho Conservation League, Conservation Northwest, Idaho Rivers United, Ecology Center, Kentucky Resources Council, Inc, Endangered Habitats League, Klamath Forest Alliance, EPIC-Environmental Protection Information Center, The Lands Council, Friends of Blackwater, McKenzie Gardens, Friends of Columbia Gorge, Michigan Nature Association, Gifford Pinchot Task Force, Midwest Environmental Advocates, Soda Mountain Wilderness Council, Minnesota Center for Environmental Advocacy, Southern Utah Wilderness Alliance, New Mexico Environmental Law Center, Ventura Coastkeeper, Northern Plains Resource Council, WaterWatch of Oregon, northwest Environmental Advocates, Western Environmental Law Center, Northwest Environmental Defense Center, Western Nebraska Resources Council, Western Resources Advocates, Ohio Environmental Council, WildEarth Guardians, Olympic Forest Coalition, Wildlands CPR, Oregon Center for Environmental Health, Wishtoyo Foundation, Oregon Wild, The Xerces Society for Invertebrate Conservation, PennFuture, Public Lands Wihtout Livestock]
July 9, 2009 - Louis J. Freeh, former Director, Federal Bureau of Investigation
July 9, 2009 - Concerned Women for America
July 9, 2009 - Center for Inquiry, Office of Public Policy
July 9, 2009 - Association of Prosecuting Attorneys
July 9, 2009 - Alliance for Justice
July 8, 2009 - National Association of Social Workers, Puerto Rico Chapter
July 8, 2009 - Letter from More than 1000 Law Professors
July 8, 2009 - Hispanic National Bar Association Past Presidents [Honorable Mario G. Obledo; John R. Castillo; Robert M. Maes; Honorable Lorenzo Arredondo; Mari Carmen Aponte; Gilbert F. Casellas; Robert G. Mendez; Michael N. Martinez; Mark Gallegos; Jimmy Gurule; Robert J. Ruiz; Dolores Atencio; Carlos G. ORtiz; Wilfredo Caraballo; Mary T. Hernandez; Jose Gaitan; Hugo Chaviano; Gregory Vega; Lillian G. Apodaca; Alice Velazquez; Rafael A. Santiago; Angel Gomez; Carlos Singh; Alan Varela; Nelson A. Castillo; Jimmie V. Reyna; Victor Marquez]
July 8, 2009 - Hispanic National Bar Association
July 8, 2009 - Brennan Center for Justice
July 7, 2009 - Ronal W. Serpas, Ph.D., Chief of Police, Nashville and Davidson County
July 7, 2009 - Puerto Rican Legal Defense and Education Fund Former Board Members [Carmen Aponte, former Executive Director, Puerto Rico Federal Affairs Administration; Sandra Ruiz Butter, former President, VIP Community Services; Ernest J. Collazo, Collazo Carling & Mish LLP; George A. Davidson, Hughes Hubbard & Reed LLP; Dr. Ricardo Fernandez, President, Lehman College, City University of New York; Andres V. Gil, Davis, Polk & Wardwell, LLP; Ambassador Gabriel Guerra-Mondragon, former U.S. Ambassador to Chile; Dorothy James, former Provost and Dean of Faculty, Connecticut College; Harold S. Lewis Jr., Walter F. George Professor of Law, Mercer University Walter F. George School of Law; Benito Romano, Freshfields Bruckhaus Deringer LLP; Judah C. Sommer, Senior Vice President, UnitedHealth Group, Inc.]
July 7, 2009 - National Rifle Association
July 7, 2009 - National Association of Women Lawyers
July 7, 2009 - Mexican American Legal Defense and Education Fund
July 7, 2009 - Judicial Watch
July 7, 2009 - Joint Letter [Sandra S. Froman, Esq., Former President, National Rifle Association of America, NRA Board of Directors and Executive Council; Owen P. Buz Mill, President, Gunsite Academy, Inc., NRA Board of Directors; Evan F. Nappen, Esq., Corporate Counsel and Director, Pro-Gun New Hampshire, Inc.; Grover G. Norquist, President, Americans for Tax Reform, NRA Board of Directors; Sheriff Jay Printz, Retired Sheriff and Coroner, Ravalli County, Montana, NRA Board of Directors; Todd J. Rathner, President, T. Jeffrey Safari Company, NRA Board of Directors; Wayne Anthony Ross, Esq., President, Alaska Gun Collectors Association, NRA Board of Directors; Don Saba Ph.D., Sierra Bioresearch, NRA Board of Directors; Robert E. Sanders, Esq., former Assistant Director, Bureau of Alcohol, Tobacco and Firearms, NRA Board of Directors; Jon A. Standridge, Brigadier General (USA Ret.); Joseph P. Tartaro, President, Second Amendment Foundation; Jim Wallace, Executive Director, Gun Owners' Action League]
July 7, 2009 - Joint Letter [Alexander Graham Bell Association for the Deaf and Hard of Hearing; American Association for Affirmative Action; American Association on Health & Disability; American Association of People with Disabilities; American Diabetes Association; ADA Watch/National Coalition for Disability Rights; Association of Programs for Rural Independent Living, Autism Society of America, Burton Blatt Institute; Disability Rights Education and Defense Fund; Empowerment for the Arts International; Epilepsy Foundation; Higher Education Consortium for Special Education; Judge David L. Bazelon Center for Mental Health Law; MindFreedom International; National Association of the Physically Handicapped; National Association of Social Workers; National Association of State Head Injury Administrators; National Center for Environmental Health Strategies, Inc; National Center for Learning Disabilities; National Council on Independent Living; National Disability Institute; National Disability Rights Network; National Down Syndrome Society; National Spinal Cord Injury Association; Teacher Education Division of the Council for Exceptional Children; United Church of Christ Disabilities Ministries Board of Directors; United Spinal Association]
July 7, 2009 - Joint Letter [A. Philip Randolph Institute; ACORN; ADA Watch; Advancement Project; Alliance for Retired Americans; American-Arab Anti-Discrimination Committee (ADC); American Association for Affirmative Action; American Association of People with Disabilities; American Federation of Government Employees, AFL-CIO; American Federation of Labor and Congress of Industrial Organizations (AFL-CIO); American Federation of State, County and Municipal Employees; American Federation of Teachers; Americans for Democratic Action, Inc.; Asian American Justice Center; Campaign for America's Future; Center for Inquiry; Center for Responsible Lending; DC Vote; Disability Rights Education and Defense Fund; Hispanic Federation; Immigration Equality; International Union, United Automobile, Aerospace & Agricultural Implement Workers of America, UAW; Japanese American Citizens League; Lawyers' Committee for Civil Rights Under Law; Leadership Conference on Civil Rights; League of United Latin American Citizens; Legal Aid Society-Employment Law Center; Legal Momentum; Mexican American Legal Defense and Education Fund; NAACP; National Asian Pacific American Bar Association; National Association of Consumer Advocates; National Association of Human Rights Workers; National Black Chamber of Commerce; National Black Justice Coalition; National Coalition for Disability Rights (NCDR); National Congress of Black Women, Inc.; National Disability Rights Network; National Education Association; National Employment Law Project; National Employment Lawyers Association; National Fair Housing Alliance; National Jewish Democratic Council; National Korean American Service & Education Consortium (NAKASEC); National Organization for Women; National Minority AIDS Council; National Urban League; NCLR (National Council of La Raza); People for the American Way; Pride at Work, AFL-CIO; Service Employees International Union (SEIU); Southeast Asia Resource Action Center (SEARAC); USAction; U.S. Hispanic Chamber of Commerce; Women Employed]
July 7, 2009 - Illinois State Senate
July 7, 2009 - Hispanic National Bar Association [On behalf of the Cuban American National Council (CNC), Hispanic Association of Colleges and Universities (HACU), Hispanic Federation, Hispanic National Bar Association (HNBA), Labor Council for Latin American Advancement (LCLAA), League of United Latin American Citizens (LULAC), MANA, A National Latina Organization, Mexican American Legal Defense and Education Fund (MALDEF), National Association of Hispanic Publication (NAHP), National Association of Hispanic Federal Executives (NAHFE), National Association of Latino Elected and Appointed Officials (NALEO), National Conference of Puerto Rican Women, National Council of La Raza (NCLR), National Image, Inc., National Hispanic Caucus of State Legislators, National Hispanic Council on Aging (NHCOA), National Hispanic Environmental Council (NHEC), National Hispanic Foundation for the Arts (NHFA), National Hispanic Media Coalition (NHMC), National Hispanic Medical Association (NHMA), National Institute for Latino Policy (NiLP), National Puerto Rican Coalition, Inc. (NPRC), SER - Jobs for Progress National, Inc., Southwest Voter Registration Education Project (SVREP), United States Hispanic Chamber of Commerce (USHCC), U.S. Hispanic Leadership Institute (USHLI)]
July 7, 2009 - Michael R. Bloomberg, Mayor, City of New York
July 7, 2009 - Leroy D. Baca, Sheriff, County of Los Angeles
July 7, 2009 - American Bar Association
July 6, 2009 - John F. Timoney, President, Police Executive Research Forum
July 6, 2009 - Ivan E. Bodensteiner, Professor of Law, Valparaiso University School of Law
July 2, 2009 - Joint Letter from Former Assistant District Attorneys [Steven M. Rabinowitz, March J. Citrin, John W. Fried, Thomas Demakis, Rubie A. Mages, John Lenoir, Ted Poretz, Mike Cherkasky, Joseph Ortego, Steven Fishner, Irving Hirsch, Jerry Neugarten, Fred Biesecker, Annette Sanderson, Jacki Hilly, jessica DeGrazia, Maureen Barden, Deborah Veach, Vivian Berger, Maurice Mathis, Susan Gliner, Elizabeth Lederer, Frank Munoz, Isabelle Kirshner, Richard Girgenti, Peter Kougasian, Nancy Gray, Jason Dolin, William Tendy, Patrice M. Davis, Jose Diaz, Scott Sherman, Peter Zimroth, James Warwick, Stephen L. Dreyfuss, Consuelo Fernandez, Jeff Schlanger, John Moscow, Eugene Porcarco, Kim H. Townsend.]
July 1, 2009 - Women's Bar Association of the State of New York
June 30, 2009 - New York City Bar Association
June 30, 2009 - Joint Letter from Professors of Disability Law, Disability Rights Law, and Special Education Law [Michael Waterstone, Loyola Law School; Peter Blanck, Syracuse University; Michael Stein, Harvard Law School Project on Disability; Marianne Engelman Lado, Seton Hall University School of Law; March C. Weber, DePaul University College of Law; Ani B. Satz, Ph.D., J.D., Emory University School of Law; Deirdre M. Smith, University of Maine School of Law; Ruth Colker, Michael E. Moritz College of Law, The Ohio State University; Robert Dinerstein, American University Washington College of Law; Michael E. Schwartz, Syracuse University College of Law; Carrie Griffin Basas, University of Tulsa College of Law; Arlene Mayerson, University of California Berkeley, Boalt Hall School of Law, Arlene S. Kanter, Syracuse University College of Law; Paula Pearlman, Loyola Law School; Wendy E. Parmet, Northeastern University School of Law; Paul M. Secunda, Marquette University Law School; Michael L. Perlin, New York Law School; Elizabeth Pendo, Saint Louis University School of Law; Simeon Goldman, Albany Law School; Jan C. Costello, Loyola Law School; Jeanette Cox, University of Dayton School of Law; Laura Rothstein, Louis D. Brandeis School of Law, University of Louisville]
June 29, 2009 - Rachel Quintana
June 29, 2009 - Arizona Hispanic Chamber of Commerce
June 29, 2009 - American Hunters & Shooters Association
June 26, 2009 - Carmela Russo-Killeen
June 25, 2009 - Society of American Law Teachers
June 24, 2009 - Interfaith Alliance
June 23, 2009 - U.S. Hispanic Chamber of Commerce
June 23, 2009 - Pace Law School Faculty Members [Michelle S. Simon, Dean, Horace E. Anderson, Jr., Barbara L. Atwell, Adele Bernhard, Jay C. Carlisle, II, David N. Cassuto, Luis E. Chiesa, S. David Cohen, Karl S. Coplan, Bridget J. Crawford, Donald L. Doernberg, David N. Dorfman, Linda C. Fentiman, James J. Fishman, Margaret M. Flint, Leslie Yalof Garfield, Bennett L. Gershman, Steven H. Goldberg, SHelby D. Green, Alexander K.A. Greenwalt, Lissa Griffin, Jill I. Gross, JoAnn Harris, John A. Humbach, Irene D. Johnson, Janet A. Johnson, Robert F. Kennedy, Jr., Andrew C.W. Lund, Thomas M. McDonnell, Randolph M. McLaughlin, Vanessa H. Merton, Jeffrey G. Miller, Gary A. Munneke, Michael B. Mushlin, Marie Stafanini Newman, John R. Nolon, Richard L. Ottinger, Ann Powers, Nicholas A. Robinson, Audrey Rogers, Darren Rosenblum, Merril Sobie, Ralph M. Stein, Emily Gold Waldman, Gayl S. Westerman]
June 22, 2009 - Republican Party of Puerto Rico
June 19, 2009 - National Advocates for Pregnant Women
June 18, 2009 - Elizabeth Iglesias, Professor, University of Miami School of Law, Center for Hispanic & Caribbean Legal Studies
June 17, 2009 - State of Connecticut Latino and Puerto Rican Affairs Commission
June 15, 2009 - Sierra Club and National Latino Coalition on Climate Change
June 15, 2009 - ASPIRA
June 13, 2009 - Lurita Doan, former Administrator, U.S. General Services Administration
June 12, 2009 - Nereida "Nellie" Rivera-O'Reilly, Senator, Legislature of the Virgin Islands
June 12, 2009 - Delta Sigma Theta of Northern Virginia
June 12, 2009 - Andrew Cuomo, Attorney General, State of New York
June 11, 2009 - Detectives' Endowment Association, Inc.
June 10, 2009 - Joint Letter [Diana D. Parker, Esq.; Vivian Sevitz, Esq.; Dawn M. Cardi, Esq.; Susan G. Kellman, Esq.; Pamela Rogers Chepiga, Esq.; Roberta A. Kaplan, Esq.; Caroline Rule, Esq., Isabelle A Kirshner, Esq.; Donna R. Newman, Esq.; Katherine L. Pringle, Esq.; Catherine M. Foti, Esq.; Joyce C. London, Esq.; Audrey Strauss, Esq.; Anne J. D'Elia, Esq.; Marjorie J. Peerce, Esq.; Catherine L. Redlich, Esq.; Deborah A. Schwartz, Esq.; Mindy Heller Chettih, Esq.; Kathryn Keneally, Esq.; Anne E. Beaumont, Esq.; Andrea Likwornik Weiss, Esq.; Tracy Sivitz, Esq.; Louise Sommers, Esq.; Magda M. Jimenez Train, Esq.; Jacqueline C. Wolff, Esq.; Patricia A. Pileggi, Esq.; Pamela D. Hayes, Esq.; Alex Young K. Oh, Esq.; Mala Ahuja Harker, Esq.; Melinda Sarafa, Esq.; Eridania Perez, Esq.; Beth D. Jacob, Esq.; Karla G. Sanchez, Esq.; Annemarie Hassett, Esq.; Joy L. Vastola, Esq.; Denise A. Rubin, Esq.; Tanya Chutkan, Esq.; Lisa Breier Urban, Esq.; Alexandra A. E. Shapiro, Esq.; Miriam M. Breier, Esq.; Linda Imes, Esq.; Donna L. Gordon, Esq.; Laura A. Brevetti, Esq.; Sarah E. Zgliniec, Esq.; Marjorie E. Berman, Esq.; Debra A. Karlstein, Esq.; Marion Seltzer, Esq.; Lisa Cahill, Esq.; Wendy H. Schwartz, Esq.; Ann M. Galvani, Esq.; Lisa A. Ferrari, Esq.; Penny Shane, Esq.; Celia Goldwag Barenholtz, Esq.; Joyce B. David, Esq.; Sharon Nelles, Esq.; Ellen V. Holloman, Esq.; Marion Bachrach, Esq.; Marilyn C. Kunstler, Esq.; Susan R. Necheles, Esq.; Judith L. Mogul, Esq.; Ellen Yaroshefsky, Esq.; Melissa Dassori, Esq.; Helen A. Gredd, Esq.; Diana L. Erbsen, Esq.; Nancy Kestenbaum, Esq.; Maria C. Marinello, Esq.; Linda C. Goldstein, Esq.; Hillary Richard, Esq.; Tricia Bloomber, Esq.; Keisha-Ann G. Gray, Esq.; Nina Beattie, Esq.]
June 10, 2009 - Joint Letter - Members of Arizona Law School Facilities
June 9, 2009 - National Hispanic Leadership Agenda
June 9, 2009 - National Fraternal Order of Police
June 9, 2009 - MANA, a National Latina Organization
June 9, 2009 - Jenniffer Gonzalez-Colon, Speaker of the Puerto Rico House of Representatives
June 8, 2009 - Police Executive Research Forum
June 8, 2009 - National Sheriffs' Association
June 8, 2009 - National Organization of Black Law Enforcement Executives
June 8, 2009 - National District Attorneys Association
June 8, 2009 - Hispanic Engineers Business Corporation
June 7, 2009 - Major Cities Chiefs Association
June 6, 2009 - Cuban American National Council
June 5, 2009 - National Association of Police Organizations, Inc.
June 5, 2009 - Maria E. Melendez-Altieri, DMD, Mayor of the City of Ponce, Puerto Rico
June 4, 2009 - Lilia R. Leon, Councilmember, City of Commerce, California
June 3, 2009 - Nelson A. Diaz, Cozen O'Connor
June 3, 2009 - National Association of Social Workers
June 3, 2009 - Elizabeth Iglesias, Professor, University of Miami School of Law, Center for Hispanic & Caribbean Legal Studies
June 2, 2009 - Third Branch Conference
June 2, 2009 - MANA de Albuquerque
June 2, 2009 - Legislatura Municipal de San Juan, Puerto Rico
June 2, 2009 - Latino Business Chamber of Greater Los Angeles
June 1, 2009 - Manuel A. Diaz, Mayor, City of Miami, Florida
June 1, 2009 - Joint Letter from Former Law Clerks [Adam Abensohn (1996-97, 1998-99), Andrew B. Ayers (2005-06), Alison Nodvin Barkoff (2000-01), David A. Battat (1994-95), Julie H. Becker (1999-2000), Molly Kiklen (2005-06), Edward J.W. Blatnik (2000-01), Charu A. Chandrasekhar (2004-05), Hannah Y.S. Chanoine (2004-05), Matthew Colangelo (2002-03), Kevin E. Collins (2002-03), Glenn C. Edwards (1997-98, 2001-02), Melissa Lynn Elstein (1998-99), Joseph Evall (1992-93), Tracy M. Flynn (1994-95), Cary Franklin (2005-06), Kimberly A. Gahan (2007-08), Jeff Grossman (2000-01), Jessica Hertz (2007-08), Kathy J. Holub (1995-96), Robin Kar (1998-99), Mike Kavey (2004-05), Curtis A. Kin (1999-2000), Timothy Lambert (2000-01), James R. Levine (2001-02), Jack A. Levy (1999-2000), Julia Tarver Mason (1996-97), Amy Carpert Mena (2003-04), Sarah S. Normand (1998-99), Jenny Rivera (1993-94), Xavier Romeu-Matta (1992-93), David Moskowitz (2007-08), Melissa Murray (2003-04), Claude Platton (2006-07), David S. Rubenstein (2007-08), Rose Saxe (2002-03), Alan E. Schoenfeld (2006-07), Robert Spoo (2003-04), Danielle Feldman Tarantolo (2006-07), Travis J. Tu (2003-04), Jeannette Vargas (2001-02), Brent Wible (2005-06), Natalie R. Williams (1993-94), Kyle C. Wong (2006-07), Lisa Zornberg (1997-98)]
June 1, 2009 - Federal Bar Association, Puerto Rico Chapter
May 29, 2009 - Encida Roman, Esq.
May 29, 2009 - New York State Law Enforcement Council
May 28, 2009 - Felix Ortiz, Assemblyman, The Assembly, State of New York
May 28, 2009 - Ricardo Elias Morales, Chairman, New York City Housing Authority
May 26, 2009 - National Latino Peace Officers Association
May 26, 2009 - Luis G. Fortuno, Governor, Commonwealth of Puerto Rico
May 8, 2009 - Women of El Barrio
May 6, 2009 - National Latino Farmers & Ranchers Association
May 4, 2009 - Americans United for Life