Associate Justice of the U.S. Supreme Court - Elena Kagan
On May 10, 2010, President Obama nominated Elena Kagan to be an Associate Justice of the United States Supreme Court. The Judiciary Committee hearing to consider the nomination was held from June 28 - July 1, 2010. The Judiciary Committee reported the nomination to the Senate for consideration on July 20, 2010. The Senate confirmed the nomination on August 5, 2010.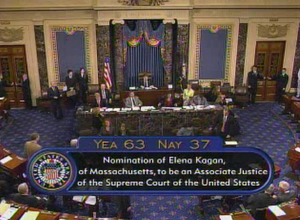 Justice Kagan earned her A.B., summa cum laude, from Princeton University in 1981. She graduated from the Worcester College at Oxford University in 1983 with a Master of Philosophy. In 1986, she graduated from Harvard Law School. Justice Kagan served as a clerk to Judge Abner Mikva from the U.S. Court of Appeals for the D.C. Circuit from 1986-1987, and from 1987-1988 she clerked for Supreme Court Justice Thurgood Marshall. Following her clerkships, she worked as an Associate at Williams & Connolly, LLP, in Washington, D.C., and then as a professor at the University of Chicago Law School. From 1995-1999, she worked in the Clinton administration. Justice Kagan became a professor at Harvard Laws School in 1999, and eventually became the dean of the Harvard Law School. In 2009, she was confirmed as the first woman to serve as the Solicitor General of the United States.
Transcript
A transcript of the hearing, including the Committee Questionnaire, responses to questions submitted for the record, and letters received in connection with the nomination, is available through the Government Printing Office. An Errata print of the transcripts is also available online.
*NOTE: Due to a printing error at the Government Printing Office, the responses to questions submitted for the record are not included in the hearing transcript. Responses to questions submitted for the record are available here.
Questionnaire Supplements
June 18, 2010 - Letter from Elena Kagan to Chairman Patrick Leahy and Ranking Member Jeff Sessions, re: Question 12(d)

April 5, 1997 - Conference Remarks at Case Western Law School
May 15, 1993 - Remarks at the University of Chicago Law School


May 20, 2010 - Letter from Elena Kagan to Chairman Patrick Leahy and Ranking Member Jeff Sessions, re: Question 13(a) and 13(b)
May 18, 2010 - Supplemental Materials - Oxford Thesis, Princeton Thesis
June 18, 2010 - Letter from Jeh Charles Johnson, General Counsel, Department of Defense, to Chairman Patrick Leahy and Ranking Member Jeff Sessions, re: documents (available upon request)
June 15, 2010 - Letter from Chairman Patrick Leahy to Jeh Charles Johnson, General Counsel, Department of Defense, re: documents
National Archives and Records Administration and William J. Clinton Presidential Library
June 23, 2010 - Letter from Chairman Patrick Leahy to Ranking Member Jeff Sessions, re: Clinton Library documents
June 19, 2010 - Letter from Gary Stern, General Counsel, National Archives, to Chairman Patrick Leahy and Ranking Member Jeff Sessions, re: documents
June 18, 2010 - Letter from Gary Stern, General Counsel, National Archives, to Chairman Patrick Leahy and Ranking Member Jeff Sessions, re: documents
Clinton Presidential Library - Kagan Emails Composed (Released June 18, 2010)
Clinton Presidential Library - Kagan Emails Received (Released June 18, 2010)
Clinton Presidential Library - Kagan Emails Federal (Released June 18, 2010)
June 11, 2010 - Letter from Gary Stern, General Counsel, National Archives, to Chairman Patrick Leahy and Ranking Member Jeff Sessions, re: documents
Clinton Presidential Library - Office of White House Counsel (Released June 11, 2010)
Clinton Presidential Library - Staff & Office, U.S. Court for the District of Columbia (Released June 11, 2010)
Clinton Presidential Library - Domestic Policy Council and Staff & Office (Released June 11, 2010)
Clinton Presidential Library - White House Office of Records Management (Released June 11, 2010)
June 8, 2010 - Letter from Gary Stern, General Counsel, National Archives, to Chairman Patrick Leahy and Ranking Member Jeff Sessions, re: documents
Clinton Presidential Library - Domestic Policy Council (Released June 4, 2010)
June 4, 2010 - Letter from Chairman Patrick Leahy to Gary Stern, General Counsel, National Archives
June 4, 2010 - Letter from Gary Stern, General Counsel, National Archives, to Chairman Patrick Leahy and Ranking Member Jeff Sessions
May 21, 2010 - Letter from David S. Ferriero, Archivist of the United States, to Chairman Patrick Leahy and Ranking Member Jeff Sessions, re: Kagan documents
May 18, 2010 - Letter from Chairman Patrick Leahy and Ranking Member Jeff Sessions to Terri Garner, Director of the William J. Clinton Presidential Library and Museum, re: documents
Clinton Presidential Library - Documents Related to Native Americans
Clinton Presidential Library - Bruce Reed Collection
Question 12A - Books, Articles, Reports, Letters to the Editorial, Editorial Pieces and Other Published Material
Formal Publications

2009 - "The Role of the Solicitor General" in The U.S. Supreme Court: Equal Justice Under Law (eJournal USA/U.S. Department of State 2009).
2009 - "Office of the White House Counsel" in Mark Green and Michele Jolin, eds.,

Change for America: A Progressive Blueprint for the 44th President

(Basic Books 2009).
2009 - "Foreward" in Daniel Hamilton and Alfred Brophy, eds.,

Transformations in American Legal History: Essays in Honor of Professor Morton J. Horwitz

(Harvard 2009).
2008 - Harvard Law Revisited, 11 The Green Bag 475 (2008).
2007 - In Memoriam: Clark Byse, 121 Harvard Law Review 454 (2007).
2007 - Richard Posner, The Judge, 120 Harvard Law Review 1121 (2007).
2006 - In Memoriam: David Westfall, 110 Harvard Law Review 947 (2006).
2006 - Women and the Legal Profession - A Status Report (Leslie H. Arps Memorial Lecture), 61 The Record 37 (2006).
2001 - Chevron's Nondelegation Doctrine, 2001 Supreme Court Review 201 (with Davd J. Barron).
2001 - Presidential Administration, 114 Harvard Law Review 2245 (2001).
2000 - Libel and the First Amendment (Update), Encyclopedia of the American Constitution, Supplement II (2000).
2000 - Masson v. New Yorker Magazine, Inc., Encyclopedia of the American Constitution (2000).
1996 - Private Speech, Public Purpose: The Role of Governmental Motive in First Amendment Doctrin, 63 University of Chicago Law Review 413 (1996).
1996 - When A Speech Code Is A Speech Code: The Stanford Policy and the Theory of Incidental Restraints, 29 University of California at Davis Law Review 957 (1996)
1995 - Confirmation Messes, Old and New (Book Review), 62 University of Chicago Law Review 919 (1995).
1993 - Regulation of Hate Speech and Pornography After R.A.V., 60 University of Chicago Law Review 873 (1993).

1995 - An abbreviated version of this article appears in Laura Lederer and Richard Delgado, eds.,

The Price We Pay

(Hill & Wang 1995).


1993 - A Libel Story: Sullivan Then and Now (Book Review), 18 Law and Social Inquiry 197 (1993).
1993 - For Justice Marshall, 71 Texas Law Review 1125 (1993).
1992 - The Changing Faces of First Amendment Neutrality: R.A.V. v St. Paul, Rust v Sullivan, and the Problem of Content-Based Underinclusion, 1992 Supreme Court Review 29.
1986 - Note, Certifying Classes and Subclasses in Title VII Suits, 99 Harvard Law Review 619 (1986).


From the Dean

Fall 2008 - Two Campaigns
Summer 2008 - A Changing Climate of Environment
Winter 2008 - A Curriculum Without Borders
Summer 2007 - Con Law Takes Center Stage
Spring 2007 - Corporate Governance in the New Global Economy
Fall 2006 - Connecting to Practice
Summer 2006 - Asian Journeys
Spring 2006 - View from Chambers
Fall 2005 - Negotiation, Advanced
Summer 2005 - Criminal Law in Flux
Spring 2005 - A Call to Public Service
Fall 2004 - Law on the Front Lines


Harvard Law School Releases

December 16, 2008 - Six From HLS Win Prestigious Skadden Fellowships
December 12, 2008 - Lawrence Lessig named professor of law at HLS, director of Harvard's Edmond J. Safra Foundation Center for Ethics
December 12, 2008 - Lloyd E. Ohlin, expert in criminal justice, 1918-2008
October 23, 2008 - Harvard Law School Celebrates Record-Setting Capital Campaign
September 3, 2008 - Henry E. Smith to join HLS faculty in 2009
August 7, 2008 - John Goldberg to join HLS faculty
August 4, 2008 - Kagan is honored for her work to encourage public service
June 11, 2008 - Jonathan Zittrain appointed to tenured faculty position
June 5, 2008 - Highlights from Commencement Exercises
May 13, 2008 - Malone and Jacobs appointed clinical professors of law
May 7, 2008 - Harvard Law Faculty votes for 'open access' to scholarly articles
April 30, 2008 - Palfrey appointed as new head of Harvard Law School Library
April 29, 2008 - Stuntz and Warren elected to American Academy of Arts and Sciences
April 14, 2008 - Ashish Nanda will join HLS faculty as professor of practice
April 9, 2008 - Oliveira Appointed Associate Dean and Dean for Development and Alumni Relations
April 7, 2008 - Three young scholars join HLS faculty as assistant professors
March 20, 2008 - Anne Alstott, expert on tax law and social welfare, will join HLS faculty
March 18, 2008 - Harvard Law School launches new Public Service Initiative
February 19, 2008 - Sunstein to join Harvard Law School faculty
January 24, 2008 - Michael Klarman to join HLS faculty
December 13. 2007 - Six From HLS Win Prestigious Skadden Fellowships
November 13, 2007 - Pakistani chief justice to receive Harvard Law School 'Medal of Freedom'
October 9, 2007 - Clark Byse, celebrated HLS professor of administrative law and contracts: 1912-2007
August 6, 2007 - William Rubenstein joins HLS faculty
July 3, 2007 - Robert E. Keeton, pioneer of insurance law and District Court judge: 1919-2007
June 14, 2007 - Olara Otunnu receives Harvard Law School Association Award
June 11, 2007 - Yochai Benkler joins HLS faculty
June 8, 2007 - Highlights from Harvard Law School's Commencement
June 6, 2007 - Bordone and Cox honored on Class Day
May 23, 2007 - Robert H. Sitkoff joins HLS faculty
May 15, 2007 - Gabrielle Blum and James Greiner join HLS faculty
April 4, 2007 - HLS adds five clinical professors
March 26, 2007 - Kathryn Spier to join HLS faculty
March 22, 2007 - Wasserstein Family Gives $25 Million to Harvard Law School for Academic Center
February 22, 2007 - Human Rights Program announces new fellowship opportunity
February 11, 2007 - Dean Elena Kagan praises incoming Harvard President Drew Gilpin Faust
January 16, 2007 - Richard A. Musgrave, noted economist and pioneer in public finance: 1910-2007
January 2, 2007 - Six from HLS win Skadden public interest fellowships
December 7, 2006 - Noah Feldman to join Harvard Law faculty
October 6, 2006 - HLS faculty unanimously approves first-year curriculum reform
September 20, 2006 - Webcast: Dean Kagan delivers 'State of the School' address
April 24, 2006 - Fallon selected to join American Academy of Arts and Sciences
March 1, 2006 - Associate Dean Scott Nichols to Conclude Service
January 18, 2006 - Professor Arthur von Mehren, 1922-2006
December 6, 2005 - HLS students win record number of public service fellowships
November 29, 2005 - Harvard Law School launches new center to investigate intersections of health, technology and law
September 23, 2005 - Webcast of Dean Kagan's 'state of the school' address
September 15, 2005 - Celebration of Black Alumni begins this weekend
September 2, 2005 - Dean Kagan announces hurricane relief efforts
August 30, 2005 - Five new professors join HLS faculty
August 24, 2005 - HLS to hold second Celebration of Black Alumni
June 21, 2005 - Kirkland & Ellis Gift Honored by Renaming Major Harvard Law School Teaching Space
April 13, 2005 - State of President Lawrence Summers and Dean Elena Kagan on Laurence Tribe
February 10, 2005 - Renovations to Hemenway Gymnasium slated for summer 2005
January 3, 2005 - Subramanian Joins Tenured Faculty
November 30, 2004 - Statement by Dean Elena Kagan on the Solomon Amendment
October 6, 2004 - Memorial Service for Archibald Cox
September 30, 2004 - Harvard Law School Announces New Professorship Dedicated to Accounting and Statistics
September 23, 2004 - Students and Faculty Connect in First-Year Reading Groups
September 8, 2004 - Three Professors Join Tenured Faculty
August 4, 2004 - Harvard Law School Chooses Architect for Northwest Corner
April 19, 2004 - Ogletree Appointed Director of New Harvard Institute
December 11, 2003 - School Wins Record Number of Skadden Fellowships
November 7, 2003 - HLS Announces Environmental Law Fellowship
October 23, 2003 - Celebrating a Legal Services Partnership
October 18, 2003 - Fisher Named to Hale and Dorr Professorship
October 8, 2003 - Professor Archibald Cox Honored
October 2, 2003 - Vorenberg Fellowship Recipients Announced
July 1, 2003 - Kagan Becomes Dean of Harvard Law School


Letters to the Editor

April 28, 2003 - Harvard Crimson, "HLS International Law Program Healthy"
March 24, 2003 - Harvard Law Record, "Student Input for Allston"
April Fool's Day Columns, not authored by Elena Kagan

April 1, 2010 - Harvard Law Record
April 2, 2009 - Harvard Law Record



The Daily Princetonian

Unknown - USG discusses honor report; appropriate funds for trips
Unknown - Unbeaten tennis drubs Harvard, 8-1: Tigers clinch sixth straight crown
Unknown - Scarlet Knights nip Basketball
Unknown - Karp leads Women's Center with chutzpah, aggressiveness
Unknown - Hockey downs Bulldogs, 3-2; Mann turns back 31 Eli shots
April 8, 1981 - Declaration o the Campaign for a Democratic University
February 3, 1981 - Kagan wins Sachs Scholarship
January 21, 1981 - The Last Goodbye
November 10, 1980 - Fear and loathing in Brooklyn
February 11, 1980 - Carl Schorske's Viennese masterpiece
November 28, 1979 - GICC decides to speak to university on CURL
November 20, 1979 - USG urges changes in position of chapel dean
November 20, 1979 - McGrath writes two hit musicals for Triangle
November 19, 1979 - Iran protest group to demonstrate
November 14, 1979 - Bowen meets club representatives, discusses CURL recommendations
November 12, 1979 - Football bows to Bulldog jinx, 35-10; Yale captures Ivy League championship
November 9, 1979 - Yale, Tigers prepare for clash: Football to confront Bulldogs in battle for Ivy League lead
November 7, 1979 - Women's Center organizes education group
November 1979 - The Women's Center: Gaining a new identity amidst controversy
October 22, 1979 - Women's Center stages discussion about tenure for female professors
October 22, 1979 - People's Front marches to support divestiture
October 22, 1979 - Honors Committee releases long-awaited reports: Report prompts mixed response
October 19, 1979 - USG designates committee to help student groups mix
October 16, 1979 - Dean Brown tells Cap he would probably bicker again
October 4, 1979 - GICC postpones decision on CURL's latest report
October 1, 1979 - Scarlet Knights bury football, 38-14
September 28, 1979 - Hungry Tigers seek to upset Rutgers
September 26, 1979 - SECH loses two sexual therapists as university moves to save money
September 18, 1979 - English department forced to take rare staffing action
May 21, 1979 - University bans cooking appliances, vetoing Residence Committee stance
May 9, 1979 - Faculty solicits plan to sway S. Africa companies
May 7, 1979 - President releases yearly statement on topics of scholarship, research
April 27, 1979 - New York's rock and roll clubs boom
April 24, 1979 - Honor group poll reportedly says between 15 and 20 percent cheat
April 23, 1979 - Poll indicates one-third have cheated: Results of survey question could be inflated
April 19, 1979 - Resources committee supports several proxies on South Africa
April 18, 1979 - Woods advocates total divestiture of university South African stock
April 13, 1979 - Baseball overcomes Manhattan 11-7
April 10, 1979 - U-Council forms group on South Africa: Body to consider new ways to improve racial situation
April 6, 1979 - Physicist urges stockpiling of drug
April 3, 1979 - Front, Bowen meet to discuss investment policy
April 2, 1979 - Columbia divests itself of stock in three banks
March 23, 1979 - Trustees to meet here today to vote on South African proxy
March 15, 1979 - Proposed changes in zoning draw criticism from university
March 9, 1979 - Kelley: U-Council 'founding father' discusses group's ten year history
March 8, 1979 - Bowen to go to Washington today: agenda includes talk with Califano
March 1, 1979 - University takes conservation steps to deal with energy cost overrun
February 21, 1979 - Frank files complaint on sex bias
February 17, 1979 - Goheen, Blumenthal receive Alumni Day honors: Former president awarded Wilson prize
February 13, 1979 - U-Council approves right to silence in Discipline Committee hearings
February 7, 1979 - Bohens' 'dual careers' move ahead in Washington: Halcyone Bohen: From Dean to Researcher
February 6, 1979 - 'Prince' accepts advertisement by Playboy
February 3, 1979 - Preyer: Southern gentleman in Congress
January 17, 1979 - Bicker numbers decline; clubs profess no anxiety
December 19, 1978 - Court gives conditional discharges to three marijuana law offenders
December 18, 1978 - Arbitrators to resolve unions' grievances
December 12, 1978 - Committee hearings resume Wednesday despite protests
December 8, 1978 - AD search yields potential candidates
December 7, 1978 - Woman splashed with beer at club files assault charge with university
November 29, 1978 - Powerful Yale hands skaters 7-4 loss in game at Ingalls Rink
November 20, 1978 - Undergraduate Life at Princeton: Outlook for Prospect Street: Eating clubs grow in strength
November 14, 1978 - N.J. Senate bill hikes drinking age
November 8, 1978 - Bradley defeats Bell in Senate contest
November 6, 1978 - Football goes undefeated over break: Humiliates Penn, 21-0
October 18, 1978 - Three borough candidates compete for two seats on Princeton council
October 10, 1978 - Citizen groups support investigation of borough, township consolidation
October 2, 1978 - Seven journalists come to Princeton to study economics at Wilson School
September 26, 1978 - Undergrad hours cut at Student Center
September 14, 1978 - 1978 Football outlooks include great expectations
September 13, 1978 - Social life discussed at open house
Question 12B - Reports, Memoranda, Policy Statements, Minutes, Agendas
November 18, 2008 - Boston Bar Association Diversity Leadership Task Force
June 2008 - New York State Commission on Higher Education, Final Report of Findings and Recommendations
May 2005 - Task Force on Women Faculty of Harvard University
November 2002 - Locational Options Committee of Harvard Law School
Question 12C - Testimony, Official Statements, and Other Communications
February 10, 2009 - Transcript - Confirmation Hearing, Nomination to be Solicitor General of the United States
February 14, 2007 - Letter - From Law School Deans - Compensation of federal judges
January 15, 2007 - Statement of Law School Deans - Legal representation of detainees at Guantanamo
November 14, 2005 - Joint Letter - Opposing an Amendment to strip the federal courts of jurisdiction to hear habeas petitions brought by Guantanamo detainees
May 4, 2005 - Statement of Law School Deans - Opposing threats of retaliation against federal judges
September 10, 2002 - Letter - In support of McConnell nomination to the Tenth Circuit Court of Appeals
June 17, 2002 - Letter - To Senator Paul Sarbanes about a provision of the Public Company Accounting Reform and Investor Act
April 12 and 13, 2001 - Joint Letters - In support of Keisler nomination to the Fourth Circuit Court of Appeals
May 27, 1998 - Press Briefing - On welfare reform, with Secretary Donna Shalala and Eli Segal
March 9, 1998 - Press Briefing - On tobacco legislation, with Chris Jennings
February 13, 1998 - Press Briefing - On tobacco legislation, with General Barry McCaffery
November 7, 1997 - White House Press Conference - On Hate Crimes, with Maria Echaveste